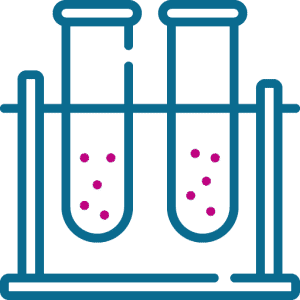 This indicator is used to investigate two groups of pathologies: 1.cancers; 2.foetal malformations.
This indicator is used for two groups of pathologies: 1) Oncology; 2) pathology of pregnancy. Oncological indications. In oncology, AFP is used for tracking: 1) primary liver cancer; 2) tumours of the reproductive system. Primary liver cancer usually arises against a background of cirrhosis or chronic hepatitis. In cirrhosis and chronic hepatitis, α-fetoprotein – AFP is a valuable monitoring parameter and can be used to diagnose primary liver cancer (i.e. to detect when cirrhosis progresses to cancer). Elevated blood levels of AFP can be found in 90% of patients with primary liver cancer. Primary liver cancer is a relatively rare disease.
Oncology
In addition, increases in AFP are caused by testicular tumours (non-seminomatous). A high AFP concentration indicates a large tumour mass and a poor prognosis. Seminomas, dysgerminomas, differentiated teratomas never cause an increase in blood AFP levels. Cholangiocellular bile duct tumours in the liver also do not show an increase in AFP levels. If a cholangiocellular tumour or pancreatic tumour is suspected, it may be useful to additionally test for the cancer marker CA 19-9 (see CA 19-9). In the case of a benign tumour, both AFP and β-hCG markers must be measured together, as they do not respond equally to treatment. In a non-seminomatous tumour, the sensitivity of AFP is 50-80%. Combining AFP and β-hCG, the overall sensitivity of both parameters is 86%. In the post-operative period, an increase in AFP and β-hCG levels is an early sign of malignant progression and recurrence (the increase is detected several months earlier than other diagnostic procedures can show it). High levels of AFP and β-hCG indicate a poor prognosis. Other malignancies that cause an increase in AFP levels include gastric cancer, colorectal cancer, bile duct tumours, pancreatic cancer and liver metastases.
The α-fetoprotein-AFP and CEA assays together can differentiate primary liver cancer from liver metastases. Low blood levels of AFP in the presence of elevated CEA levels are indicative of liver metastases from cancer. In primary liver cancer, AFP is the first to increase. Sometimes an increase in both AFP and CEA is detected. An increase in CEA, together with an increase in AFP, is found in 20-60% of primary liver cancers.
Pathology of pregnancy
Pregnancy indications. α-Fetoprotein – The detection of AFP in blood and amniotic fluid helps to find defects in fetal development during pregnancy. Several features of this indicator should be taken into account when prescribing an AFP test:
1) The test should be performed on pregnant women who have previously given birth to a baby with genetic defects;
2) it should be reserved for pregnant women aged 30-35 years (the incidence of birth defects increases sharply if the age of the pregnant woman exceeds 30 years);
3) There is little time to optimally set the AFP indicator. This is week 16-21 of pregnancy;
4) If a decrease or increase in AFP levels is found, the test must be repeated. In 67% of cases, the diagnosis of foetal malformation is questioned when the test is repeated;
5) Repeated abnormal AFP levels, followed by sonography with cytogenetic testing (amniocentesis may be required). If amniocentesis is performed, the concentration of AFP in the amniotic fluid is assessed at a genetic counselling centre. In contrast to serum AFP levels, the concentration of AFP detected in the fetal waters should decrease between the 16th and 21st week of normal pregnancy;
6) Twins, triplets or more fetuses increase serum AFP levels (which makes AFP-based screening for birth defects less informative). The purpose of the AFP test is to detect and rationalise the selection of pregnant women for amniocentesis. An increase in serum AFP in a pregnant woman suggests spinabifida, while a decrease in serum AFP suggests Down syndrome.
Increase (oncology)
– Primary liver cancer (rare, unlike cholangiocellular cancer);
– Non-seminomatous testicular tumours;
– Non-seminomatous testicular tumours;
– Sometimes: stomach cancer, colon cancer, pancreatic and cholangiocellular cancer, hepatitis, cirrhosis,
Crohn's disease, polyposis.
Decrease in pregnant women (AFP values lower than they should be at a given week of pregnancy)
– Down syndrome;
– Chromosome 18 abnormality;
– Mola hydatidosa;
– Pregnancies are actually shorter than people think.
Increase in pregnant women (AFP values higher than they should be at a given week of pregnancy)
– Neural tube defects (impaired mental and physical development): 1) spina bifida; 2) anencephalon; 3) meningomyelocele;
– Abdominal wall defects: 1) gastroschisis; 2) omphalocele;
– Mucosal defects: 1) intestinal atresia; 2) congenital nephrosis;
– Other reasons: 1) fetal death, 2) a longer pregnancy than expected (in terms of number of weeks); 3) several foetuses, e.g. twins; 4) very low body weight of the pregnant woman.
You can consult our family doctors.