Cancer marker CA 15-3 (breast)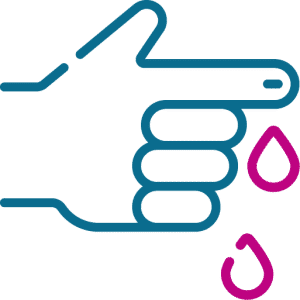 It is used to diagnose and monitor the effectiveness of treatment in breast cancer.
Cancer marker CA 15-3 (breast) is the main laboratory test for breast cancer. The study is important for assessing the success of surgery and monitoring the course of the disease. The higher the level, the larger the tumour or its metastases, but the primary diagnosis of breast cancer cannot be based on this test alone. In case of an increase, mammography or breast ultrasound is necessary. The diagnostic value is increased when measured in combination with carcinoembryonic antigen (CEA).
The cancer marker CA 15-3 (breast) may also be elevated in non-cancerous conditions such as liver disease, sarcoidosis and lupus, as well as other cancers (bronchial, ovarian, pancreatic, colorectal).
In the case of breast cancer, this indicator can provide help:
1) tracking the post-operative period of breast cancer
2) assessing the radicality of surgical treatment.
This indicator is rarely used for the primary diagnosis of cancer, as a blood test cannot be expected to be equivalent to a histological examination. On the other hand, it also has advantages over histological examination in that it can show the total mass of tumour tissue in the body. This test also does not require knowing in advance whether there is a metastatic focus that can be biopsied for histological examination. Unlike histological testing, CA15-3 can be repeated frequently to track progression or regression of recurrence.
A positive CA 15-3 indicates that:
(a) breast cancer cells are present in the body;
(b) the tumour has recurred;
c) the tumour has not been completely removed by surgery.
You can consult our family doctors.